House on Fire
1987
House on Fire is a sculpture and performance work made with steel pipe, a pressurized propane system, and a match. The work was created at Sculpture Space in Utica and exhibited at Oil and Steel Gallery in Long Island City, New York.

Artist Erik Derkatsch was commissioned to perform within the work for an autumn celebration marking the inauguration Socrates Sculpture Park in New York City.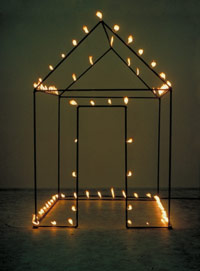 House for Summer 30th Anniversary
Planted 1987
House for Summer is an artist-initiated sculpture of living trees sited in Hoyt Arboretum in Portland, Oregon. Fifteen Himalayan birch trees, with vivid white bark, were planted on the knoll above SW Knights Road and SW Fairview in 1987, the house is oriented to catch the Summer Solstice sunset. The artist's Summer Solstice performances have occurred on the site, which can be visited year 'round.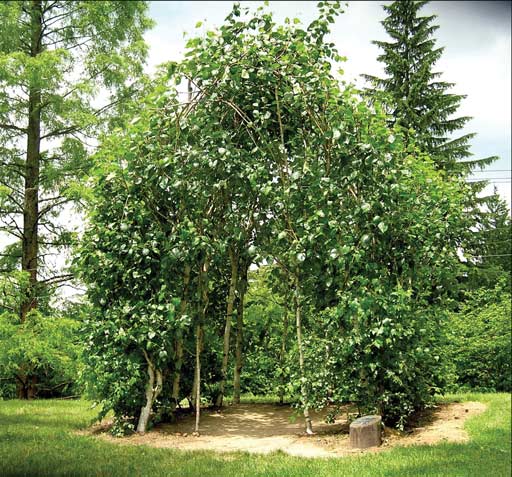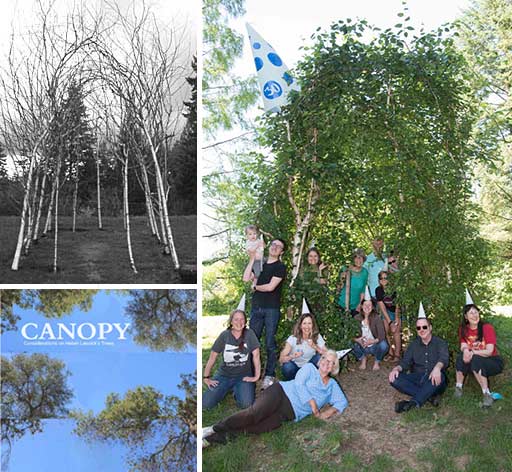 Top left: House for Summer, 1987
Right: 30th Celebration. Photographer: Brian Foulkes
Bottom left: Cover of 30th Anniversary Exhibit Catalog, 36 pages of selected artwork by Helen Lessick.
The 30th anniversary of the planting of the temporal work was celebrated June 2017 with a solstice event, exhibit and catalog.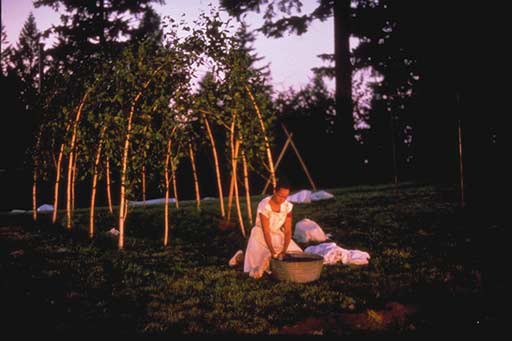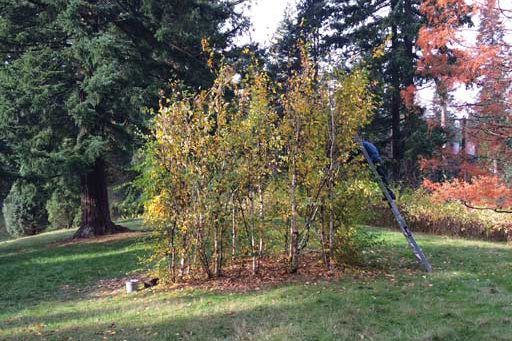 Growing in Hoyt Arboretum, House for Summer is part of the Public Art Collection of the City of Portland, OR. Parks & Recreation arborists maintain, prune and shape the work under a joint agreement with the Regional Arts and Culture Council.
Housing Complex
2013
A series of studio sculptures with wood, hardware and filters, examining home repair and habitation.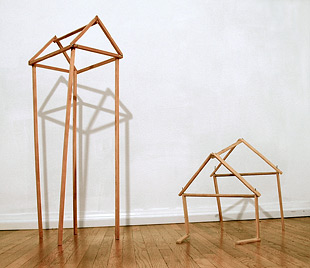 Housing Complex:
principals (wood lath and nails)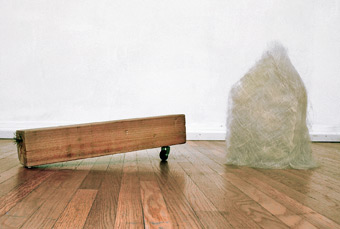 Housing Compound
(4 x 4 post with one wheel and bristles)
FilterHouse
(ventilation filters and thread)
1,000 Views of Mount Fuji
2009
This interactive sculptural print unites an altered NASA photograph with a die cut form. When assembled the print makes a small house with a view of earthrise seen from the front door. Limited edition of 1,000 distributed in sites throughout Space City, USA.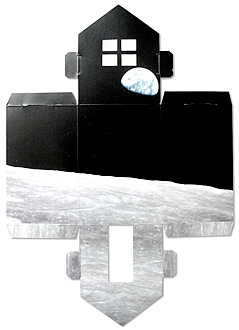 Die-cut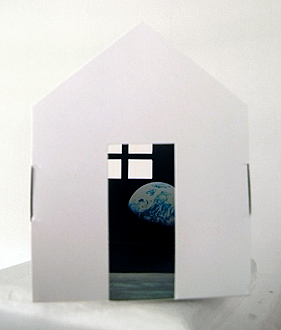 Assembled
House of Salt/Water
2000
This site-specific sculpture of small houses cast in salt, ice and carbon dioxide, was created on the beach of Naples, Florida.

The materials of the ocean returned to the Gulf over the all day Arts Alive! Beach festival.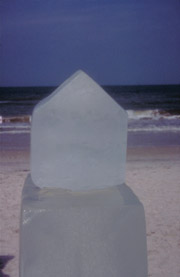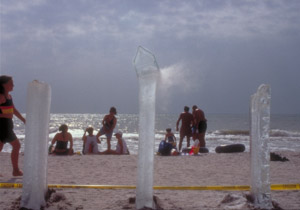 Resident Houses
2002
These cast and sculpted miniature houses were created while Artist in Residence at Bellevue Art Museum, and exhibited in a one-person show. Created with materials found in and around this Washington State museum, Resident Houses re-formatted quotidian domestic materials.
Yeast (House of Manna).
- artisan bread baked in a house form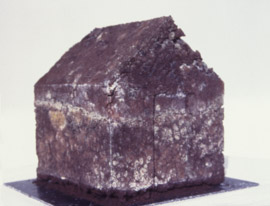 Coffee House (House of Habit)
- a casting of espresso grounds gathered from the Museum's cafe.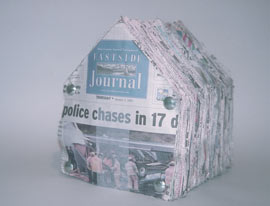 Newsroom
- editions of the local newspaper, read over the month of residency, cut, then bolted into a house form.
Brink: House on Sand Point
1998
This chain link fence house was built on the site of a decommissioned military station and made of fencing found on site. The house, built over a sunken concrete bunker holding reflective black water, had flooring made of metal grille. The floor appeared solid when viewed from the outside, but became translucent when experienced from within. Viewers' shadows were cast into the pit.
Brink was created for the HorseHead International Sculpture exhibition on the grounds of Sand Point Naval Station in Seattle, Washington.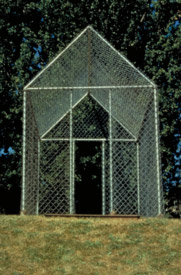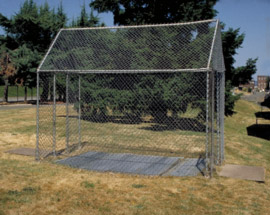 House for Autumn
1991
House for Autumn was an ephemeral seasonal sculpture constructed of baled fescue hay and thatch grown on Sauvie Island, an agricultural community at the confluence of the Columbia and Willamette Rivers in northwest Oregon.
The work was made on the grounds of the Bybee Howell Historical Park, and slowly decayed through the three months of autumn. A site-specific performance marked the inauguration of the sculpture on the Autumn Equinox.