Quercus Installed
2017
Originally designed as temporary public art, the twelve elements of Quercus can be experienced in a gallery setting.

Quercus Installed consists of twelve mirrored stainless steel silhouettes of acorns and eggs are sequenced like a clock face. Fine painted lines mark each silhouette to represent the electrical impulse of plants and the heartbeat of animals.

Installated at Jeffrey Thomas Fine Art, Portland, OR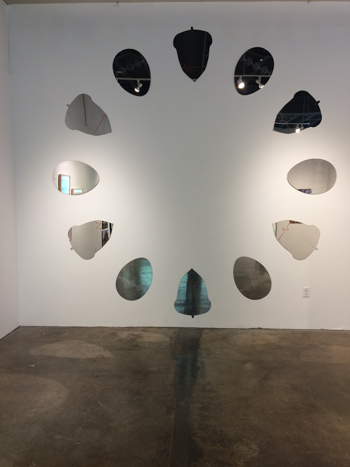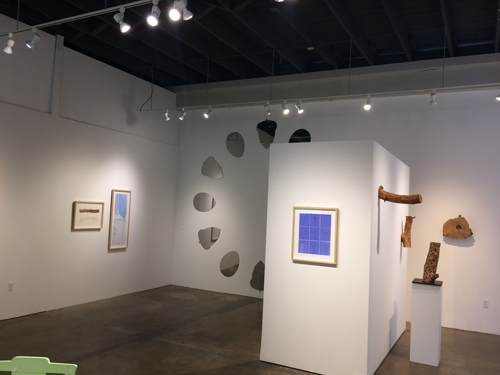 Becoming
2011
An interactive installation with sculpture with video, Becoming consists of a suspended column made from fluid, metallic bead chain and three suspended commercial pails. One pail spills light through drilled holes; one holds a video loop exploring seasonal water cycles; the third is hung beyond viewer's access and its contents remain unknown.

Installation created in the Hoffman Gallery, Lewis and Clark College, Portland for the Bonnie Bronson Fellows: 20 Years exhibition.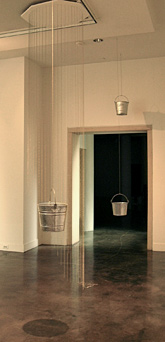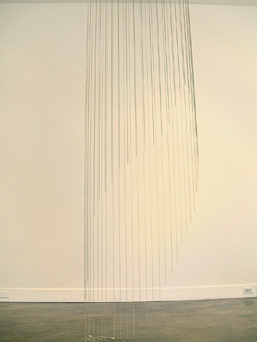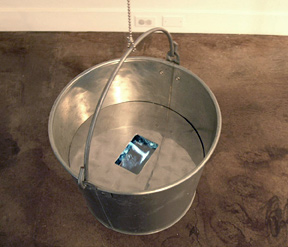 Untitled (the night sky)
2009
An installation of 23 altered and suspended pails forming the constellations Ursa Minor and Hydra framed by a hand-painted sky blue wall at Barbara Davis Gallery, Houston. The empty buckets are suspended voids, reminding viewers of phenomena made invisible during daylight hours.

The pails, in three sizes, spill light through holes drilled in the sides.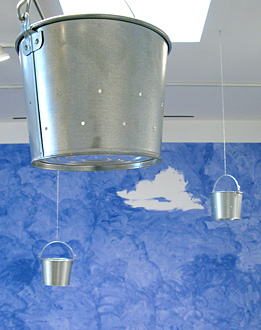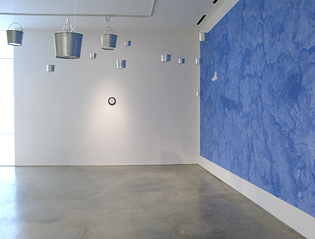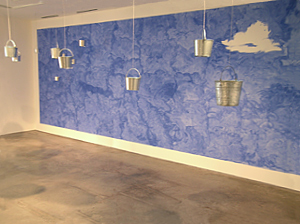 Trinity
2009
The work consists of three handblown poultry eggs suspended horizontally from the wall with bronze-painted steel wire, and three light sources creating tripled shadows.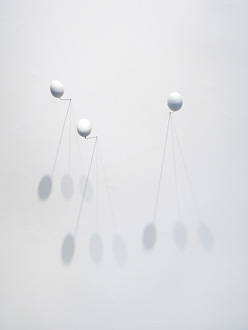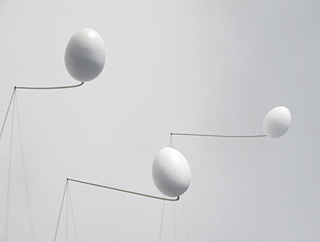 River/Water/Shed
2002
Created on the concrete banks of the Los Angeles River, River/Water/Shed consisted of 50 small house silhouettes painted along a quarter mile slope.

Though most silhouettes were painted in liquid plant food tinged with watercolor one, sited near an ant colony was painted in honey, and two, near a copse, were painted with syrup and bird seed.

Created for River Alchemy, Arroyo Arts Collective of Los Angeles.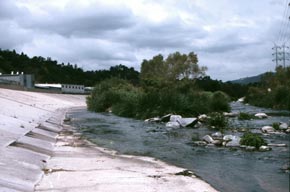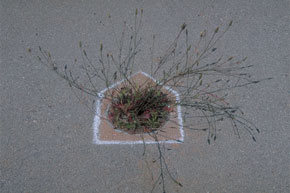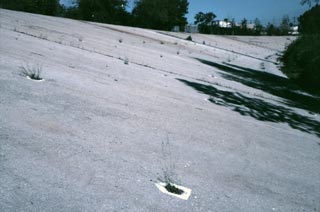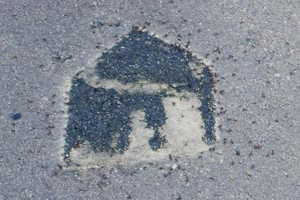 The American Century
1997
This site-specific installation relied on the orientation of the building and movement of the sun to activate the experience of the art. The hangar, aligned to a north /south axis was 60 x 120 x 80' deep. The east and west walls were glass, allowing large images of boats to project into the space and sail across the interior floor, as the day passed.

The east wall displayed a Sumner class destroyer silhouette. The west wall held an empty row boat with oars floating off.

The work was created for the Seattle Arts Commission, Seattle, Washington.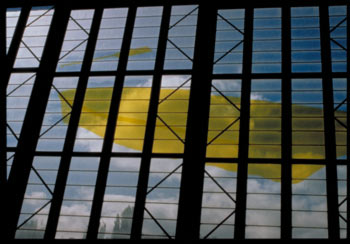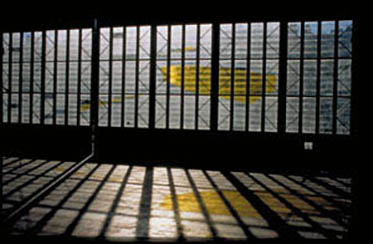 The Crowning Glory of Tacoma
1995
The Grand Crown was the largest element of the Crowning Glory of Tacoma, a one-person, multi-site exhibition throughout the Tacoma Art Museum in Washington State. This interactive installation included a Coronation Room, participatory parade, and significant hats on all street level windows.

The Grand Crown, made of gold vinyl over an aluminum frame, sat at a jaunty angle on the Museum roof.